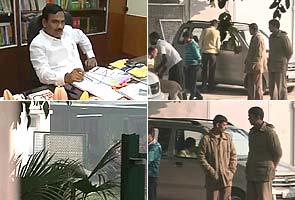 New Delhi:
It is proving to be a very severe winter for A Raja.
The Central Bureau of Investigation (CBI) raided his house in Delhi today, along with his homes in Tamil Nadu, in connection with the 2G scam which Raja allegedly masterminded. The allegations cost Raja his job as Telecom Minister last month. The government's auditor offered voluptuous criticism of Raja, stating that he broke the rules, ignored the advice of the PM, and deliberately gave away precious 2G spectrum at clearance prices to companies that lied or misrepresented information to land 2G licenses.
Mr Raja has been unflappable through this phase - even as the Supreme Court, which is monitoring different 2G cases, asked the CBI why Raja has not yet been interrogated. The court also slammed Raja for ignoring the Prime Minister's advice which suggested that Raja consider a different policy for 2G allocation. Raja rejected that notion in a letter to the PM - the tone of that note was also held up by the court as inappropriate.
Mr Raja's party- the DMK - has so far been staunch in its support, with party chief M Karunanidhi offering a defense earlier this week which included a complex reference to a mythological monster and silent films. Mr Karunanidhi has been a prolific screenwriter in the Tamil film industry.
The CBI has been asked repeatedly by the Supreme Court about why it's moving slowly in its investigation against Raja and others who worked with him in the Telecom Ministry. The raids today included the homes of four former officials of the Department of Telecom including RK Chandolia who served as Mr Raja's personal secretary during the controversial 2G allotment. The others are: AK Srivastava, Sidharth Behura and K Sridhara.
In Tamil Nadu, the CBI raided the home of Sadique Basha, believed to be a business partner of Mr Raja.
The CBI raids may help the government counter an angry Opposition in Delhi which has discounted the CBI investigation and is insistent on a Joint Parliamentary Committee (JPC) to study the 2G scam. The Opposition says that the Supreme Court's repeated criticism of the slow pace of the CBI's inquiry proves that the agency is coached by the government, which is dependent on the DMK's support. A JPC, however, is unacceptable to the government because elections in several key states including Tamil Nadu are due next year, and the Opposition could use the JPC to target the government for corruption. There are also fears that the BJP would use the JPC's powers to summon the Prime Minister and embarrass the government ahead of the elections.
The stand-off over the JPC has ensured that the entire Winter Session of Parliament has passed without any work -daily protests by the Opposition have led to both Houses being adjourned. Several all-party meetings called by the government to find a compromise have failed.